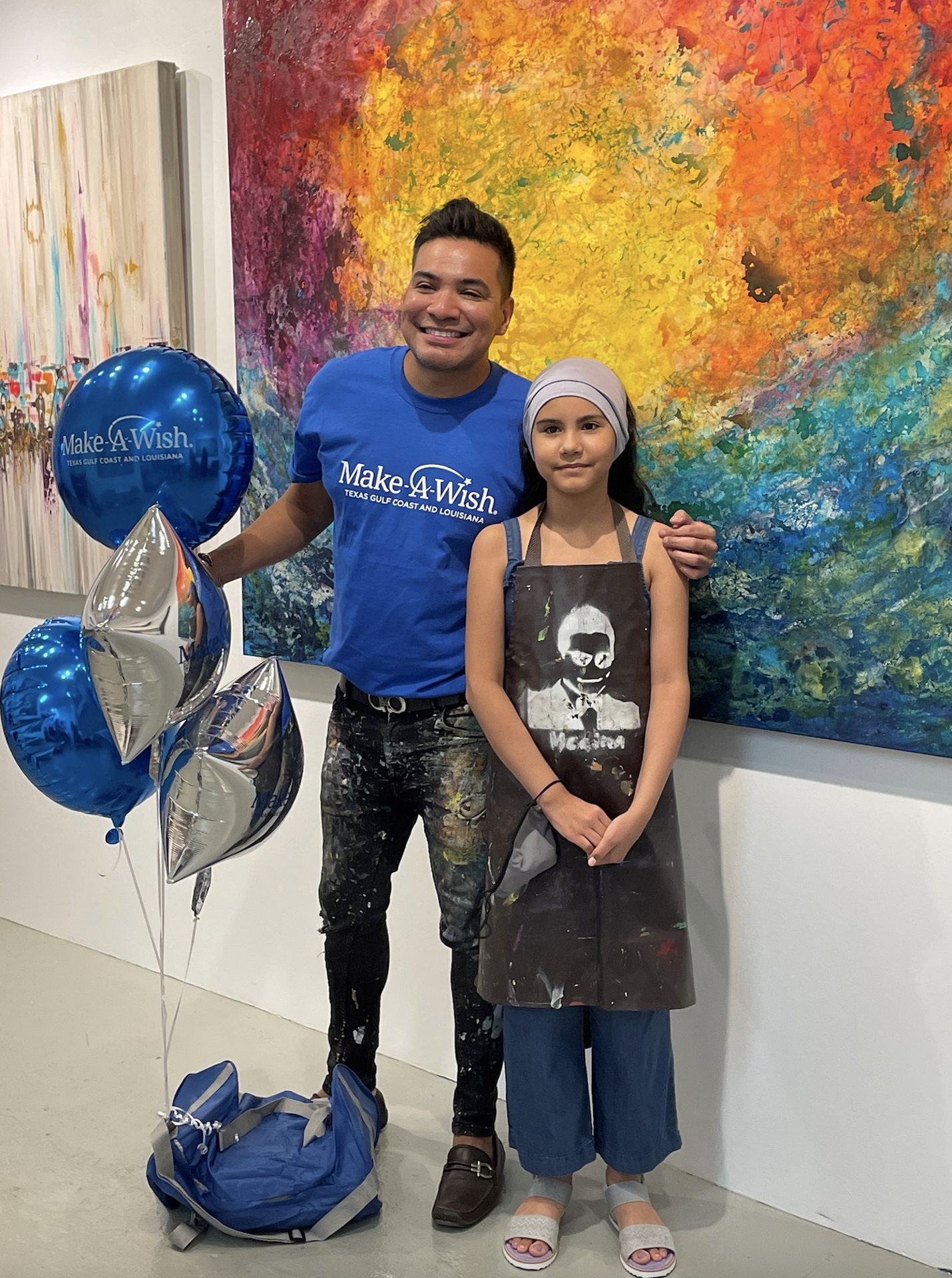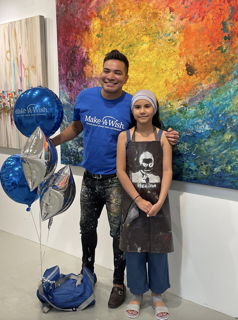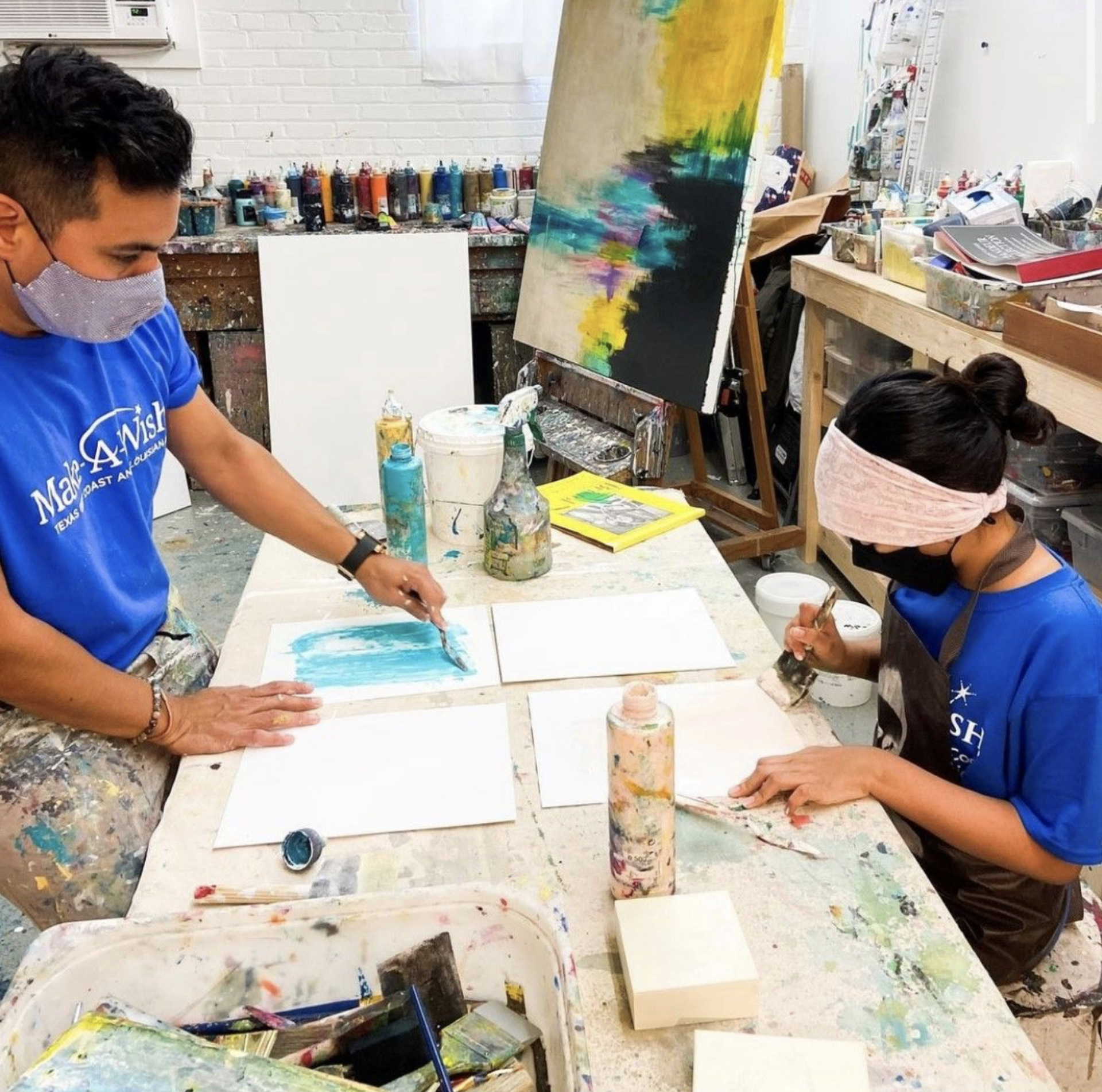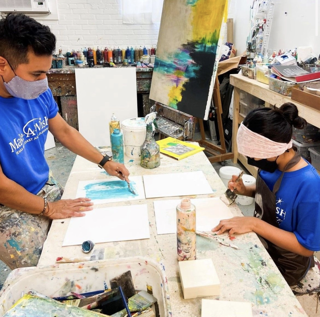 When 10-year-old Melinda Moreno, a pediatric cancer survivor from Bellaire, told Make-A-Wish Texas Gulf Coast and Louisiana that she wanted art lessons and the opportunity to showcase her masterpieces in a gallery, they wasted no time getting started.
In researching local artists in the Houston area, they found Edgar Medina, who specializes in abstract and mixed painting on canvas.
When Edgar heard about Melinda's wish, he jumped at the opportunity to make it become a reality and give her the surprise of a lifetime.
"After hearing Melinda's story, there was no question that I wanted to be involved," said Edgar. "As a kid, I, too, grew up with health issues that prevented me from participating in normal childhood activities, so I could relate to Melinda in so many ways. I'm honored to be part of such a special project."
For the last several weeks, Edgar has been working with Melinda – teaching her about technique and the use of color. Together, they are working on a series of abstract paintings inspired by her cancer journey called "Moments Through Seasons." Melinda is creating four of her own, Edgar four of his own, and the two are creating four collaboratively. The first part of Melinda's wish has been granted.
The second part of her wish will come true when her artwork is on display at Laura Rathe Fine Art in the River Oaks District during Childhood Cancer Awareness Month. Proceeds from the artwork auctioned at the exhibit will benefit Make-A-Wish Texas Gulf Coast and Louisiana.
"Moments Through Seasons" will be revealed on Thursday, Sept. 16, during a special exhibition night and will be available for 10 additional days for the public to view. Those who wish to explore it virtually can do so at www.MomentsThroughSeasons.com.
Melinda developed a brain tumor in 2019 and, as a result, had to undergo 30 rounds of proton therapy and surgery at Texas Children's Hospital. Now in remission, she is doing well and enjoying the one-on-one time learning from Edgar.
During the initial days of the pandemic lockdown while confined to her home, Melinda's love for artwork blossomed. She started drawing and exploring colors and decided that art was her true passion.
"We've seen some extremely creative wishes from children, allowing us the opportunity to work with new community partners, like Edgar," said Yara Elsayed Guest, President and CEO of Make-A-Wish Texas Gulf Coast Louisiana. "The best wishes are those that involve the entire community, like this one. They allow everyone around the wish child to experience a wish's transformative power."
Make-A-Wish Texas Gulf Coast and Louisiana is one of 59 chapters throughout the United States and last year alone was able to grant 324 wishes to local children battling critical illnesses. Currently, more than 900 children are waiting for their wishes to be granted.
"When a wish like Melinda's is granted, a child replaces fear with confidence, sadness with joy, and anxiety with hope," said Guest.
Melinda's art lessons have brought happiness to her entire family and have provided Melinda with an outlet to express herself while building her self-esteem.
"Melinda has always had a challenging time expressing emotions, but since working with Edgar, she's better able to articulate her feelings," said Linda Reyes, Melinda's mother. "She will treasure this experience for the rest of her life. It's priceless."
For more information about Make-A-Wish, Texas Gulf Coast, and Louisiana, visit https://wish.org/texgulf.